Welcome Message
Allied Academies cordially welcomes all the participants and contributors from worldwide to attend 4th International Conference on Gastroenterology and Hepatology, which is going to be held in Amsterdam, Netherlands during March 25-26, 2019 across the theme "Exploring Novel Innovations in the field of Gastroenterology and Hepatology".
Gastroenterology and Hepatology Conference provides an opportunity for all stakeholders working on Gastroenterological studies to talk about their work. Gastroenterology and Hepatology Conference will congregate renowned speakers, principal investigators, experts and researchers from both academia and healthcare industry will join to discuss their views and research. We cordially invite all the participants who are interested in sharing their knowledge and research in these studies.
About Conference
Allied Academies Organizes Euro Gastroenterology 2019 conference along with 300+ Conferences across USA, Europe & Asia every year with support from 1000 more scientific societies and Publishes 400+ Open access journals which contain over 30000 eminent personalities as editorial board members.
Euro Gastroenterology 2019 is designed to update physicians, nurse practitioners, physician assistants and other healthcare providers practicing in gastroenterology and hepatology about new approaches to the diagnosis and management of gastrointestinal and liver diseases. Speakers will present data on multiple topics including general gastroenterology, inflammatory bowel disease, colorectal neoplasia, oesophageal diseases, motility, nutrition, pancreaticobiliary disorders, endoscopy, and hepatology.
Gastroenterology and Hepatology Conference is considered as one of the major conferences that interest to the Internal Medicine faculty members and encourage them to share their working to the social community to make them aware of the best possible treatment methodologies. This stream conference deals with the internal organs which help in digestion of the organic or inorganic food materials. Gastroenterology and Hepatology conferences showcase the discussion topics confronting the functioning of esophagus, pancreas, gallbladder, bile ducts, liver, stomach, small intestine, colon, and rectum.
Objective:
Target Audience:
Gastroenterology Associations and Societies in Europe:
Associations and Societies of Gastroenterology around the World:
Sessions/Tracks
Track 1: Cellular and Molecular Gastroenterology
Cellular and Molecular Gastroenterology allow us to investigate biology from the atomic level to the community level. Cellular and Molecular Gastroenterology related to the basic science underlying digestive diseases and gastrointestinal cell biology, with emphasis on technological and thematic innovations in the field. Metaplasia, the procedure in which one kind of grown-up tissue replaces another, is a result of endless tissue injury. In the throat, gastroesophageal reflux sickness (GERD) is the condition that incessantly harms the squamous epithelium and causes its substitution by the intestinal-sort, columnar epithelium of Barrett's esophagus. The cell of beginning for this columnar metaplasia stays obscure, yet various competitors have been proposed. For instance, GERD may cause develop esophageal squamous cells to change into columnar cells (transdifferentiation) or invigorate juvenile esophageal forebear cells (in the squamous epithelium or in the channels of esophageal submucosal organs) to separate unusually into Short-entrails disorder (SBS) happens after a long surgical resection of the small digestive system.
Isthmus Stem Cells

Esophageal Submucosal Glands

Metaplasias

Intestinal Regeneration

Myofibroblasts
Track 2: Colorectal and Intestinal Disorders
Gastrointestinal maladies allude to sicknesses including the gastrointestinal tract, to be specific the throat, stomach, small digestive tract, internal organ and rectum, and the embellishment organs of absorption, the liver, gallbladder, and pancreas. Gastrointestinal issue incorporates such conditions as clogging, fractious inside disorder, hemorrhoids, butt-centric gaps, perianal abscesses, butt-centric fistulas, perianal contaminations, diverticular ailments, colitis, colon polyps, and disease. Huge numbers of these can be anticipated or limited by keeping up a sound way of life, rehearsing great entrail propensities, and submitting to tumor screening.
Anal Dysplasia

Celiac Disease (Celiac Sprue)

Clostridium Difficile (C. difficile)

Colonoscopy Screening & Preventive Care

Colorectal Polyps

Hiatal Hernia

Constipation

Diarrheal

Hemorrhoids

Irritable Bowel Syndrome (IBS)

Small Bowel Obstruction
Track 3: Gallstones and Bile Duct Stones
Bile duct stones are gallstones in the bile duct. They can start in the gallbladder and migrate into the bile duct or they can form in the bile duct itself. The stones can become lodged in the bile duct, causing a blockage. Gallstones and bile duct stones (also known as choledocholithiasis) are the same, just located in two different areas of the body. Stones may pass spontaneously out of the bile duct on their own. However, when a stone gets stuck in the bile duct, medical intervention is necessary, otherwise, inflammation, bacterial infection, and even severe organ damage can occur.
Nausea

Fever

Chills

Yellow skin or eyes (from the build-up of bilirubin, a waste product in the blood)

Itching

Weight loss and Fatigue

Night Sweats

Loss of appetite
Track 4: Esophageal Diseases
The esophagus is the muscular tube that carries food and liquids from your mouth to the stomach. You may not be aware of your esophagus until you swallow something too large, too hot, or too cold. You may also notice it when something is wrong. You may feel pain or have trouble swallowing. The most common problem with the esophagus is GERD (gastroesophageal reflux disease). With GERD, a muscle at the end of your esophagus does not close properly. This allows stomach contents to leak back, or reflux, into the esophagus and irritate it. Over time, GERD can cause damage to the esophagus. Other problems include heartburn, cancer, and eosinophilic esophagitis. Doctors may use various tests to make a diagnosis. These include imaging tests, an upper endoscopy, and a biopsy. Treatment depends on the problem. Some problems get better with over-the-counter medicines or changes in diet. Others may need prescription medicines or surgery.
Achalasia

Barrett's Esophagus

Gastroesophageal Reflux Disease (GERD)

Webs, Rings, and Diverticula
Track 5: Gastrointestinal Infections and Viral Gastroenteritis
Gastrointestinal infections are viral, bacterial or parasitic infections that cause gastroenteritis, an inflammation of the gastrointestinal tract involving both the stomach and the small intestine. Symptoms include diarrhea, vomiting, and abdominal pain. Dehydration is the main danger of gastrointestinal infections, so rehydration is important, but most gastrointestinal infections are self-limited and resolve within a few days. Viral gastroenteritis is an intestinal infection marked by watery diarrhea, abdominal cramps, nausea or vomiting, and sometimes fever. The most common way to develop viral gastroenteritis — often called stomach flu — is through contact with an infected person or by ingesting contaminated food or water. If you're otherwise healthy, you'll likely recover without complications. But for infants, older adults and people with compromised immune systems, viral gastroenteritis can be deadly.
Campylobacter

Noroviruses

Adenovirus

Escherichia coli

Escherichia coli O157:H7

Rotavirus

Salmonella and Shigella

Staphylococcus aureus

Yersinia enterocolitica
Track 6: Gastroparesis

Gastroparesis is a medical term for delayed emptying of stomach contents. It occurs from damage to the vagus nerve that extends from the brain to the stomach and is usually associated with type 1 and type 2 diabetes. Unregulated high blood sugar (glucose) levels of diabetes damage nerves and blood vessels throughout the body, including the vagus nerve in the gastrointestinal tract. Idiopathic gastroparesis is a similar condition in which the exact cause is unknown. It is treated in the same manner as diabetes-related gastroparesis.
Uncontrolled diabetes

The gastric medical procedure with damage to the vagus nerve

Parkinson's ailment

Different sclerosis

Diagnosis Treatment:

Upper Endoscopy and Gastric Emptying Scintigraphy
Track 7: Diagnostic Tools for Gastrointestinal Disorders

Medicinal diagnostic tools are intended to help in the diagnosis, checking or treatment of medical conditions that influence part or all an organism not caused by outside damage (injury) and that comprises of a disorder of a structure or function, usually serving as an evolutionary disadvantage. They are altogether required for complete and compelling management of a gastroenteric office or clinic. Some of these diagnostic tools must be sterilized before utilizing since they act as vehicles for infection transmission.
Gastroscope

Duodenoscope

Colonoscope

Flexible and Rigid Sigmoidoscope

Balloon Dilator

Endoscopic Snare

Sengstaken-Blakemore Tube

PEG Tube

Menghini Needle

Heater Probe

Band Ligator
Track 8: Gastrointestinal Bleeding and Pathology
Gastrointestinal bleeding is one of the basic grievances of the patients which could be endless, mellow or deadly. The greater part of the circumstances, GI bleeding is contained without anyone else's input, yet they are however assessed to maintain a strategic distance from a repeat and to stay away from the advance movement of disease, assuming any. Gastrointestinal pathology (including liver, gallbladder, and pancreas) is a recognized sub-specialty discipline of surgical pathology. Recognition of a sub-specialty is generally related to dedicated fellowship training offered within the subspecialty or, alternatively, to surgical pathologists with a special interest and extensive experience in gastrointestinal pathology. The gastrointestinal (GI) pathology determines quality diagnostic histopathology on gastrointestinal endoscopic biopsies and resections of the gastrointestinal and pancreaticobiliary systems.
Hematemesis

Melena

Hematochezia

Immunohistochemistry

Molecular testing for gastrointestinal and pancreaticobiliary malignancies including carcinoma, lymphoma, and sarcoma

Radiology, Imaging, and checking

Hematological tests

Endoscopy
Track 9: Gastrointestinal Oncology
The tumors of the gastrointestinal tract and extra organs which demonstrate the manifestations of inward dying, intense agonies, swelling, failure to process, trouble in gulping or perpetual blockage or intense loose bowels. Gastrointestinal diseases are ordered into 2 types upper gastrointestinal malignancies and lower gastrointestinal tract tumors. Finding requires endoscopy took after by biopsy if there is a doubt or a blister. Upper stomach related tract malignancies incorporate diseases of Esophagus, Stomach, Pancreas, Liver, Gallbladder, and MALT. Lower stomach related tract diseases incorporate colorectal malignancy, butt-centric growth, huge and small digestive system malignancies, retroperitoneum and carcinoid tumor.
Gastrointestinal Stromal Tumors

Adenocarcinoma

Lymphoma

Carcinoid tumor

squamous cell carcinoma

small cell carcinoma

leiomyosarcoma

MALT lymphoma

Cholangiocarcinoma

Gastrointestinal Carcinoid Tumor
Track 10: Gastrointestinal Pharmacology

Medications used to treat depression, anxiety, and seizures have become increasingly attractive agents for use in functional gastrointestinal disorders because they act upon the central and peripheral nervous system to modulate mood, visceral, and neuropathic pain, as well as autonomic function, in part, through anticholinergic effects. The gastrointestinal sicknesses require treatment and the pharmacological treatments are partitioned into two classes the physician recommended drugs and Over the Counter (OTC Drugs). The treatments are prescribed in view of gastrointestinal tract issue, gastrointestinal tract dividers issue, gastrointestinal motility issue.
Pharmacologic and Nonpharmacologic Interventions

Calcium Supplementation

Acid Suppressants

H2 Inhibitors

Over the Counter Drugs

Iron Preparations

Locally Acting Antidiarrheals

Antacids & Laxatives

Opioid-Induced Constipation

Physician recommended drugs
Track 11: Gastrointestinal Radiology and Imaging
Gastrointestinal Radiology or GI Imaging employs a shape of real-time x-ray called fluoroscopy and a barium-based differentiate fabric to create pictures of the stomach, throat, digestive tract and other parts of stomach related framework. It is secure, non-invasive, and may be habituated to profit precisely corrosive reflux, analyze torment, blood in the stool & other side effects. Computed tomography now allows the comprehensive assessment of abdominal and pelvic inflammatory and infectious processes, obstruction, tumor detection and staging, and display of vasculature and blunt trauma effects. Barium studies of the gastrointestinal tract, enteroclysis for small-bowel assessment, and conventional radiography still have a role, despite the extensive use of fiberoptic endoscopy. Fluoroscopy is still important, but great advances in technologies have changed gastrointestinal radiology irrevocably.
Double Bubble Radiology

Fetal and Color Doppler Ultrasound

Barium enema

CT colonography (virtual colonoscopy)

Pneumatosis cystoids intestinalis Radiology

Abdominal Imaging

Endoscopy

Fluoroscopy

Nuclear Medicine

Positron emission tomography
Track 12: Advances in Gastrointestinal Endoscopy
Gastrointestinal endoscopy is a technique that enables your specialist to take a gander at within covering of your throat your stomach and the initial segment of your small digestive tract. A thin, adaptable review apparatus called an endoscope (scope) is utilized. High-definition and magnification endoscopes with electronic chromoendoscopy capability make it easier to visualize subtle lesions, such as small and flat polyps and patches of the dysplastic gastrointestinal mucosa. They allow accurate characterization of polyps, which may in the future allow us to selectively resect only precancerous colonic polyps while ignoring small benign hyperplastic polyps, which in turn will result in significant healthcare savings. New digital choledochoscopes have vastly improved diagnostic and therapeutic capabilities within the bile and pancreatic duct. Confocal endomicroscopy now allows us to perform the microscopic evaluation of living tissues, improving targeted biopsies in Barrett's esophagus and aiding in the evaluation of bile duct strictures and pancreatic cysts. Similarly, technological advances in endoscopic ultrasound, optical coherence tomography and spectroscopy hold great promise for improving diagnostic and therapeutic capabilities for gastrointestinal disease.
Clinical endoscopy

Demonstrative endoscopy

Colonoscopy and sigmoidoscopy
Track 13: Gastroenterological Transplantation
The major gastroenterological transplantations are of liver, pancreas, esophagus, little digestive system, and colon till now. The transplantation is a major surgery, and so the quiet must be under observatory and post-transplantation. Most of the times, the complications emerge after the operation, where the body begins dismissing the join or the organ. Liver transplantation is a surgery to evacuate the infected or harmed the liver and transplant it with an entirety modern solid liver or a fragment of the liver from another/healthy individual, who is called as a donor. Individuals with intense or inveterate liver disappointment experience a liver transplant to survive.
Liver transplant

Esophagus transplant

Small intestine transplant

Multivisceral transplant

Ogilvie syndrome
Track 14: Gastrointestinal and Minimally Invasive Surgery
Gastrointestinal Surgery deals significantly with the stomach and gastrointestinal tract. A general specialist manages the focal center of life structures, immunology, concentrated care, digestion, neoplasia, nourishment, pathology, physiology, stun and revival, and wound recuperating. Technologically advanced minimally invasive surgery, which can include robotic-assisted techniques, requires incisions just millimeters in length. The small incisions create a passageway for special surgical instruments and a fiber-optic instrument called a laparoscope, which is inserted into the abdominal wall. The device transmits images from within the body to a video monitor, allowing the surgeon to see the operative area on the screen. Advantages to the minimally invasive approach can include quicker recovery times, shorter hospital stays and reduced blood loss during surgery.
Bariatric Surgery

Colorectal surgery

Laparoscopic Surgery

Pancreaticobiliary
Track 15: Gut Microbiome
The gut microbiome is made up of billions of bacteria and other microorganisms that co-exist with other human cells in the lower intestine. Gut microbiota helps with digestion, metabolism, immune function and brain health. Our gut microbiome begins to develop in very early life and is influenced by genetics, delivery method, age, stress, illness, environment, medication use, and diet. The 'balance' of our gut can be disrupted by several factors, and this can promote inflammation – a potent risk factor for physical and mental disorders.
Bile Acid Metabolism

Enhancement of Vitamin B and K

Metagenomics and Metatranscriptomics

Gut Microbiota for Health (GMFH)

Role of Toll-Like receptors (TLRs)
Track 16: Advanced Hepatology
Hepatology is a branch of medicine concerned with the investigation, anticipation, analysis, and management of infections that influence the liver, gallbladder, biliary tree and pancreas. The future of hepatology promises to eradicate Hepatitis C virus infection, a new challenge has taken its place. Obesity and metabolic syndrome and associated non-alcoholic fatty liver diseases are replacing the hepatitis C virus as the most common cause of chronic liver diseases in Western countries. Great progress in molecular biology, therapeutics, imaging, and surgery has vastly improved the understanding and treatment of childhood liver disorders. Surgical advancements in liver transplantation currently allow for a lower age or weight limit for recipients. Furthermore, most children with liver diseases or with liver transplantation today survive well into adulthood.
Liver Function

Liver Diseases: Symptoms and Causes

Liver Pathology

Liver Biopsy

Liver Regeneration
Track 17: Hepatitis and Liver Diseases
Hepatitis occurs due to the inflammation in tissues of the liver caused due to the viral infection which can harm the organ which may further lead to cirrhosis, fibrosis and liver cancer. Hepatitis is a devastating that progress slowly but results in damage to the liver. Hepatitis A is the most common cause's acute hepatitis in children in the Middle East. Establishment of HBV vaccination to cover all neonates and high-risk group, screening of donor blood can help in improving the case. Recent advancement in the treating hepatitis built on incremental improvements can transform it to new forthcoming treatments that can be potentially cured. Liver diseases can be inherited (genetic) or caused by a variety of factors that damage the liver, such as viruses and alcohol use. Obesity is also associated with liver damage. Over time, damage to the liver results in scarring (cirrhosis), which can lead to liver failure, a life-threatening condition.
Autoimmune Hepatitis

Alcoholic Hepatitis

Acute Liver Failure

Non-alcoholic Steatohepatitis (NASH)

Hemochromatosis

Primary Biliary Cholangitis

Wilson's Disease
Track 18: Liver Cancer
Liver cancer is the condition which occurs when normal cells in the liver become abnormal in appearance and destructive to the adjacent normal tissues, which can spread to other areas of liver or to the other organs outside of the liver. Cancer cells are characterized by the procurement of several capacities amid the stages of tumorigenesis, maintenance of proliferation signaling, induction of angiogenesis, activation of invasive resistance to cell death, inhibition of growth suppressors, and metastatic pathways, ability to evade immunological destruction and alteration of cellular metabolism. The most widely recognized sorts are hepatocellular carcinoma (HCC), which makes up 80% of cases, and cholangiocarcinoma.
Liver cell carcinoma

Hepatoma

Cholangiocarcinoma

Hepatoblastoma

Other sarcomas of liver
Track 19: Pancreatic Tumor and Cancer
Pancreatic cancer begins when abnormal cells within the pancreas grow out of control and form a tumor. There are two types of cells in the pancreas, the exocrine cells, and endocrine cells. These cells also have different functions. About 94% of pancreatic cancers are classified as exocrine tumors. The tumors start in the exocrine cells that make pancreatic enzymes which help in digestion. Within this category, most tumors are adenocarcinomas. Pancreatic neuroendocrine tumors account for about 6% of all pancreatic tumors. They may be benign or malignant and they tend to grow slower than exocrine tumors. Pancreatic cancer can also spread to nearby lymph nodes (part of the immune system), blood vessels or nerves. Cancer cells may travel through the bloodstream to other parts of the body, such as the liver. Treatment for pancreatic cancer may include surgery, chemotherapy, radiation therapy or a combination of these.
Pancreatic Neuroendocrine Tumors

Pancreatic Oncology

Pancreatic Ductal Adenocarcinoma (PDAC)
Track 20: Obesity or Bariatric Surgery
Obesity has become a global health problem that contributes to numerous life-threatening and disabling diseases, such as type 2 diabetes mellitus and coronary artery disease. Bariatric surgery (weight loss surgery) includes a variety of procedures performed on people who have obesity. This is done by reducing the size of the stomach with a gastric band or through the removal of a portion of the stomach or by resecting and re-routing the small intestine to a small stomach pouch. The U.S. National Institutes of Health prescribes bariatric surgery for corpulent individuals with a body mass record (BMI) of no less than 40, and for individuals with BMI of no less than 35 and genuine coinciding therapeutic conditions.
Biliopancreatic diversion

Jejunoileal bypass

Endoluminal sleeve

GI surgery for severe obesity- Bariatric surgery and its complications

Gastric Balloon
Track 21: Gastroenterology and Nutrition
Nutrition is the study of nutrients in food, how the body uses nutrients, and the relationship between diet, health, and disease. Nutrition has become more focused on metabolism and metabolic pathways (biochemical steps) through which substances inside the body are transformed from one form to another. Nutrition also focuses on how diseases, conditions, and problems can be prevented or reduced with a healthy diet. A very low-calorie diet (VLCD) is a clinically supervised diet plan that involves eating about 800 calories a day or fewer which prevents Gastrointestinal disorders. Probiotics are microorganisms that provide health benefits when consumed. The term probiotic is currently used to name ingested microorganisms associated with benefits for humans and animals. Probiotics have many advantages such as reducing gastrointestinal discomfort, improving immune health and in relieving constipation. Dietary enzymes and Single-cell proteins can be used as supplements.
Low-Calorie Diet

Dietary Fibre

Vitamins and Minerals in Food

Single Cell Protein Supplement

Dietary Enzymes

Gluten-Free Diet

High or Low Iron Diet

Lactose-Free Diet
Market Analysis
The market for gastrointestinal pharmaceuticals is divided into two general segments: prescription gastrointestinal pharmaceuticals and OTC gastrointestinal pharmaceuticals. Similarly, the market for gastrointestinal diagnostics, testing, and vaccines is divided into three general segments: Diagnostics and testing market, Medical devices (endoscopy), Vaccines. The market is further broken down into the drugs to treat specific disorders within the gastrointestinal system, including the following: Gastrointestinal tract disorders, Gastrointestinal tract walls disorders, Gastrointestinal motility disorders and Gastrointestinal Cancers.
The global market for gastrointestinal disorder therapeutics and diagnostics reached $49.6 billion in 2015. This market is expected to grow from nearly $51.8 billion in 2016 to $63.8 billion in 2021 at a compound annual growth rate of 4.3% from 2016-2021.
The prescription therapies market is expected to grow from $18.6 billion in 2016 to nearly $22.1 billion in 2021 at a CAGR of 3.5% for the period 2016-2021.
The diagnostics market over the next five years will grow from $17.7 billion in 2016 to $23.5 billion in 2021 at a CAGR of 5.9% for the period 2016-2021.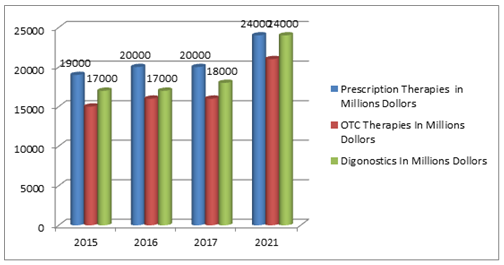 The rise in the instances of Crohn's disease, inflammatory bowel disease, ulcerative colitis, and such other diseases is also expected to create a rise in demand for the gastrointestinal diseases market. The growth in the demand and sale for the gastrointestinal drugs across the developing and developed markets is also attributed to be one of the major driving factors for this market. The growing investments and the research & development activities by the key market players are also expected to play a vital role in the overall growth of this market. The major restraining factors for the market include advancements in the new alternative therapies and the regulatory restraints.
Scope and Importance:
The Main aim of the market research is to increase the awareness of gastrointestinal disorders among people and to identify the gastrointestinal market landscape as well as important advancements.
This study analyses various therapeutic options currently on the market as well as potential products and classes of products that are likely to have a significant impact on the future for the prescription as well as the over-the-counter (OTC) gastrointestinal drug markets. The gastrointestinal market is one of the key therapeutic areas most significantly affected by the generic erosion of blockbusters.
Fig- Global Gastrointestinal Drugs Market Revenue by Region, 2016
According to Market research the Global Gastrointestinal Drugs Market Revenue by Region in 2016, North America was the highest by getting the revenue of 17,288 US Dollar Million, while the Middle East and Africa Continent was having least generation of revenue. But, the Future scope is much brighter in Coming years in Middle East countries.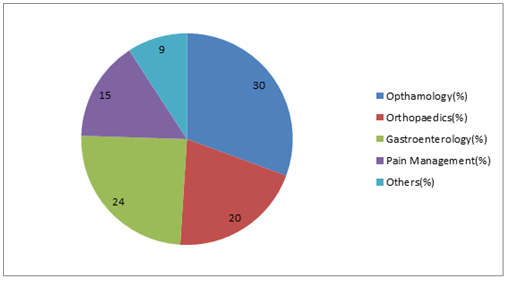 Fig: Global Ambulatory Surgery Centers Market share (%) by, 2023
The demand for ambulatory surgery center is high in Europe and the Asia Pacific owing to the government initiatives to overcome the shortage of medical facilities in remote areas of developing countries such as India and China.
The North America ambulatory surgery center market is expected to witness significant growth rate in future due to enough outpatient surgery centers and government regulations governing the preference for outpatient surgery centers to expand the reach of medical facilities.
Global Gastrointestinal Endoscopic Devices Marke
The global gastrointestinal endoscopic devices market accounted for approximately USD 5.6 Billion in 2015 and is expected to reach approximately USD 8.5 Billion by 2021, growing at a CAGR of around 7.0% between 2016 and 2021.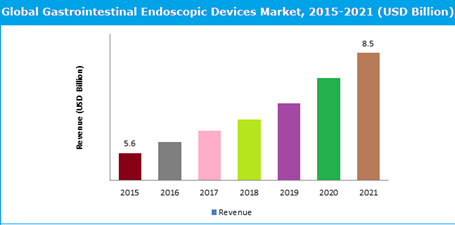 Technological Innovation in the GI Endoscope Market
New Technological advancements will continue to precede the gastrointestinal endoscope market. Recent generations of endoscopes will continue to progressively promote visualization and detection technologies. It is projected to exceed $1.7 billion by 2020.
Evolution of HCV Therapy:
In the United States, 20 percent to 30 percent of individuals living with HIV is coinfected with HCV. Hepatitis C is common among individuals living with HIV. This implies that approximately 225,000 to 330,000 individuals in the United States are living with both viruses. The larger part of individuals living with hepatitis C does not know they have it. The most common course of transmission in the UK is utilizing non-sterile needles and other equipment for infusing drugs. 90 percent of individuals who got HIV from infusing drugs is moreover infected with HCV. This is since both infections can be spread effectively through blood and blood products.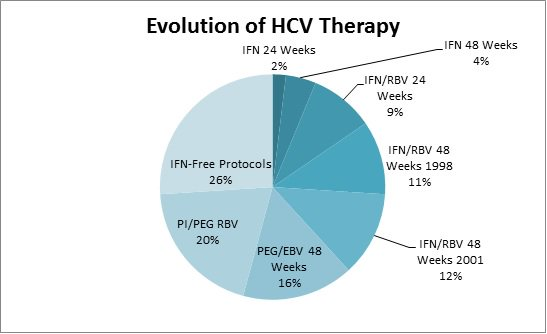 New Updates: Gastroenterology and Digestive Disorders
Irritable bowel syndrome (IBS) can be Cured by Fecal microbiota transplantation??
In humans, the gastrointestinal tract represents a large microbial ecosystem, housing several trillion microbial cells named the gut microbiota. Recent advances in sequencing methods have increased our understanding of the role of the gut microbiota in health and disease. Fecal microbiota transplantation (FMT) as an ecological therapy for several diseases is growing rapidly through worldwide. Evidence suggests that a disturbance in the gut microbiota may be responsible for the initiation and persistence of symptoms in patients with irritable bowel syndrome. FMT could be an ideal treatment option.
There is a growing interest in fecal microbiota transplantation (FMT) therapy for several gastrointestinal (GI) disorders. Microbiome in our GI system plays an important role in health and disease. An increasing number of studies demonstrate an aberrant gut microbiota composition in irritable bowel syndrome (IBS) and raise the question of whether FMT has a place in the treatment of this condition. The microbial pathophysiology of IBS is however not clearly understood, as microbiota alterations in IBS might either be a cause of IBS or a consequence of intestinal secretion and motility altered by IBS. FMT may play a significant role in future treatment of several other diseases which are thought to be linked to an abnormal gut microbiota, such as metabolic syndrome, inflammatory bowel disease, Obesity, type 2 diabetes mellitus, colonization of the gastrointestinal tract by pathogenic and multi-resistant microorganisms, depression, autism spectrum disorders, and chronic stress.
IBS is the most prevalent functional GI disorder in developed countries. It is estimated that IBS affects 10%-15% of the adult population and strongly impairs quality of life, work productivity, and social function as well as inflicting substantial costs to health care systems. IBS symptoms are characterized by chronic abdominal pain and altered bowel habits, including diarrhea or constipation, in the absence of organic or structural causes. Furthermore, IBS can be subcategorized into diarrhea predominant (IBS-D), constipation predominant (IBS-C), and alternating (IBS-A) or mixed (IBS-M), where the last two are sometimes considered synonymous. IBS is a chronic relapsing disease in which symptoms and IBS subtype may vary over time. IBS affects women more often than men.
The treatment of IBS remains challenging due to the heterogeneity of the disorder, a lack of reliable outcome measures, and high placebo response rates. At present, there is no cure for IBS and while there are a number of pharmacological therapies available to treat IBS symptoms, they are not effective in many patients. Some studies indicate that moderate effects can be achieved by probiotics and prebiotics. These products must be taken continuously to obtain a lasting effect. Also, treatment with tricyclic antidepressants, antibiotics, anticholinergic drugs, motility regulatory drugs, selective serotonin reuptake inhibitors, melatonin, non-steroid anti-inflammatory drugs, opioids, and even Chinese herbs are suggested in severe IBS cases and underlines the fact that we do not yet know the etiology of the disease.